News
Label & Flexible Packaging & Film Expo China
Shanghai Lanjing Exhibition Service Co.,Ltd
Show Add: No.2345 Longyang Road, Pudong New District, Shanghai, China
MS Tracy Zhou
Tel: 86 18898692801
Email: grand.fa@grahw.com
Ms Cathy Song
Tel:+86-21-6917 0023
E-mail:

cathy

@lanjingexpo.com
E-mail:jerry@lanjingexpo.com
QuadTech – French label printer with new automated colour control system
Date:2019-07-12 08:07:19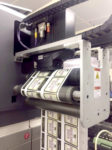 QuadTech installed a colour control system with spectral cam at the French label printer Imprimerie Bidoit (Source: QuadTech, Bespoke)
FRANCE QuadTech installed its colour control system with SpectralCam at the French printing house Imprimerie Bidoit. According to QuadTech, the label supplier for the wines and spirits industry Imprimerie Bidoit is now offering customers improved print quality and automated colour control across a range of label substrates.
Based in Cognac, southwest of France, Imprimerie Bidoit provides labels to a French Cognac and wine houses and is owned by Inessens Group. In order to achieve regular and more efficient colour control as part of a Gallus press Inessens Group were looking for new solutions. They were experiencing high levels of waste due to off-line color control as well as lengthy delays, due to the manual process of checking live print samples from the print run by hand.
Inessens now has QuadTech's Color Control Systems installed on five of the presses at their Cognac site comprising of three Gallus and two Nilpeter presses and will also install the same solution on their latest Gallus press which is due for delivery in Q3 of this year. In addition, the same QuadTech solutions are installed on five other presses at the Imprimerie Roy plant based in Chassagne Montrachet.
According to the company, the introduction of QuadTech automation has already resulted in around 15% of time savings during the makeready stage at Imprimerie Bidoit. QuadTech's Color Control System with SpectralCam compares colour accuracy to desired targets (inline, during the print run) and detects any variation. If any problems are found, the system automatically corrects the problem without the need for operator intervention.
The SpectralCam camera uses 31-bin spectrophotometer technology to measure spectral response and calculates accurate L*a*b*, ΔE and ΔDensity values at maximum press speeds.