News
Label & Flexible Packaging & Film Expo China
Shanghai Lanjing Exhibition Service Co.,Ltd
Show Add: No.2345 Longyang Road, Pudong New District, Shanghai, China
MS Tracy Zhou
Tel: 86 18898692801
Email: grand.fa@grahw.com
Ms Cathy Song
Tel:+86-21-6917 0023
E-mail:

cathy

@lanjingexpo.com
E-mail:jerry@lanjingexpo.com
Label Industry Global Awards 2017 – Impressions of the judging panel
Date:2018-11-21 09:11:41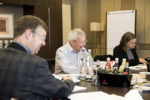 During the judging panel for the 2017' Label Industry Awards (Source: Label Industry Global Awards)
GERMANY • During FINAT ELF 2017 the jury of the Label Industry Global Awards met in Berlin to discuss the different entries across the four award categories "R. Stanton Avery Lifetime Achievement Award", "Innovation Award" (twice) and "Sustainability Award". NarrowWebTech editor Rosina Obermayer were one of the jugdes of the 14th annual awards program.
Judges for this year's awards, under the chairmanship of Mike Fairley were: Thomas Hagmaier, president of FINAT; Craig Moreland, chairman of TLMI; Andy Thomas, strategic director, Labels & Labeling and Rosina Obermayer, editor of NarrowWebTech.
The winner of the lifetime achievement award are already reveiled. Professor Tan Junqiao, founder and honorary chairman of the China Label Sub Association of the Printing and Printing Equipment the Chinese association PEIAC receives this award. Please find more information about this announcement in this news.
Following this announcement, the finalists for the three other awards have been published. Companies such as Herma, ebeam technologies, Klöckner Pentaplast, AIM, Bobst or Constantia Flexibles are mentioned in this shortlist. Please find the full list here!
The winner of the Label Industry Global Awards 2017 will be announced and awarded during Labelexpo Europe 2017, on the official awards ceremony and dinner on 25 September 2017 in Brussels, Belgium.